Session Templates
Session templates are a way to store the setup of a session for future use. They do not store any audio data but can store:
The number of tracks and busses, along with their names
The plugins present on each track or bus (if any)
All I/O connections
Creating a Session Template
The Session > Save Template shows a dialog asking for the name of the new template, and a description.
Using a Session Template
In the New Session dialog, a panel lists the different template (factory and user-created).
Managing Templates
To manage templates, choose
Window
>
Templates
. To access this menu item, you have to have a session open.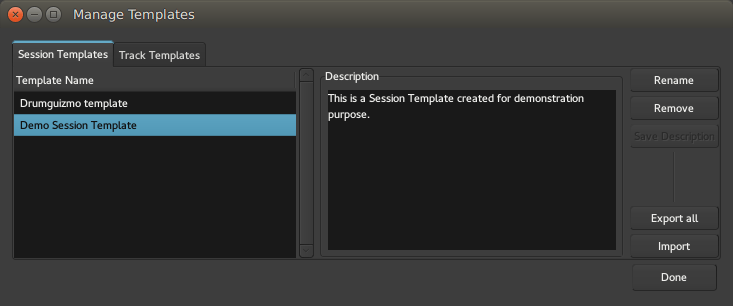 Both Session templates and Track Templates can be managed through the Manage Templates window, which can perform the following actions:
Renaming a template
Removing one
Adding/modifying its description
Exporting the templates (e.g. to be used in another Ardour instance)
Importing templates (from e.g. another Ardour instance).
See also Adding Tracks and Busses for information on templates for individual tracks or busses.